Reaching Medicare eligibility is a major milestone and finding the right plan is important. We can help you transition carefully from your current employer or individual coverage. We take a very personal approach. This includes guidance on how to apply for Medicare and an education of the government program including Parts A,B,C & D.
Next step, we find your doctors and provide prescription reports based on any medications. These reports include your specific medications, your pharmacy and accurate monthly out of pocket amounts.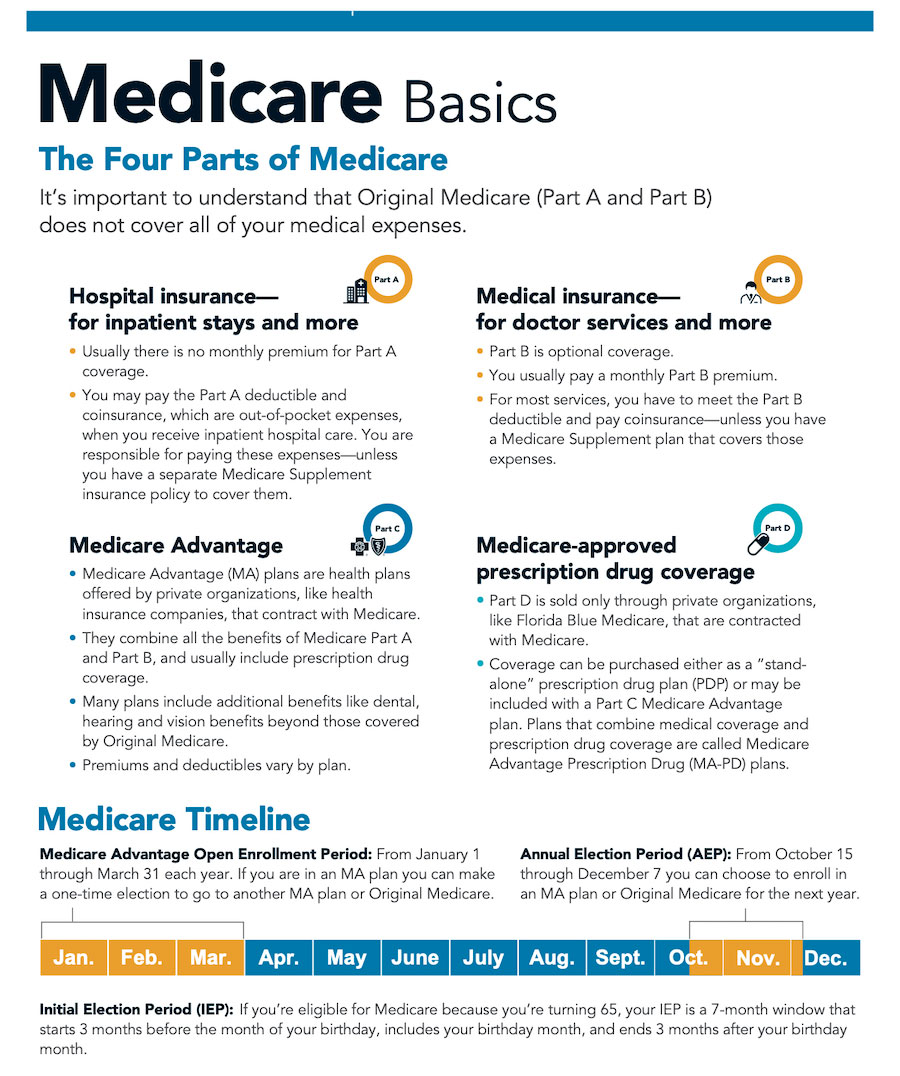 The Four Parts of Medicare
It's important to understand that Original Medicare (Part A and Part B) does not cover all of your medical expenses
Hospital insurance— Part A Coverage
For inpatient stays and more
Usually there is no monthly premium for Part A coverage.
You may pay the Part A deductible and coinsurance, which are out-of-pocket expenses, when you receive inpatient hospital care. You are responsible for paying these expenses—unless you have a separate Medicare Supplement insurance policy to cover them.
Medical insurance— Part B Coverage
For doctor services and more
Part B is optional coverage.
You usually pay a monthly Part B premium.
For most services, you have to meet the Part B deductible and pay coinsurance—unless you have a Medicare Supplement plan that covers those expenses.
Medicare Advantage - Part C Coverage
Medicare Advantage (MA) plans are health plans offered by private organizations, like health insurance companies, that contract with Medicare.
They combine all the benefits of Medicare Part A and Part B, and usually include prescription drug coverage.
Many plans include additional benefits like dental, hearing and vision benefits beyond those covered by Original Medicare.
Premiums and deductibles vary by plan.
Medicare-Approved Prescription Drug Coverage - Part D Coverage
Part D is sold only through private organizations, like Florida Blue Medicare, that are contracted with Medicare.
Coverage can be purchased either as a "stand-alone" prescription drug plan (PDP) or may be included with a Part C Medicare Advantage plan. Plans that combine medical coverage and prescription drug coverage are called Medicare Advantage Prescription Drug (MA-PD) plans.

Medicare Timeline
Medicare Advantage Open Enrollment Period: From January 1 through March 31 each year. If you are in an MA plan you can make a one-time election to go to another MA plan or Original Medicare.
Annual Election Period (AEP): From October 15 through December 7 you can choose to enroll in an MA plan or Original Medicare for the next year.
Initial Election Period (IEP): If you're eligible for Medicare because you're turning 65, your IEP is a 7-month window that starts 3 months before the month of your birthday, includes your birthday month, and ends 3 months after your birthday month.

Resources
Forms